The time has come to cut the hay here at Eden Farm.  It's a bit later this year after a wet winter, but this means a lot of grass has grown and that means heaps of hay.  Most of the hay will be big round bails and some will be small squares.  The small square bails get stacked in the hay shed by hand. Great exercise!
I was out moving some of the cows this morning while it was cold. 4 degrees.  This is cold enough to slow down the mozzies.  They are thick this year because of the water laying about.  The frogs and birds are having a field day as they are the natural predators of mozzies.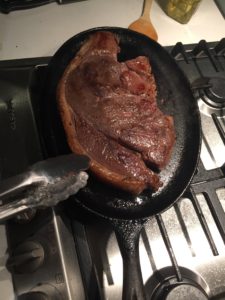 Our animals are looking amazing.  I will put up a photo or too soon. You can always come out and have a look for your self any day we are open.  Eden Farm is normally open to the public Fridays and Saturdays.  Those are the days you can buy produce like meat and products etc.
A week ago, we took some of our Rump Steak to eat with some friends in Melbourne.  He is a food Tech and he cooked the meat.  The most amazing eating experience!  We will talk about cooking methods soon, but I have been talking about this meat ever since.  There is a photo here and at the top of our home page.  Some video of the cooking will be on our web site maybe today.
Tomorrow is Melbourne cup day, so most of Victoria has a day off.  I think I will take it easy and watch the hay dry, because in a week the real work starts with raking and bailing and carting the hay into the shed.  A great and satisfying time though, seeing the harvest completed.
https://edenfarmproduce.com.au/wp-content/uploads/2016/02/Eden-Farm-Produce-Logo.png
0
0
admin
https://edenfarmproduce.com.au/wp-content/uploads/2016/02/Eden-Farm-Produce-Logo.png
admin
2016-10-30 20:59:07
2016-10-31 06:01:40
We are cutting hay Today and tomorrow