So much hay. What a great season.
I was out raking hay this morning and yesterday.  This would have to be the biggest hay season we have had in the 15 years we have owned this property.  The hay is so thick my hay rake is having trouble coping with the amount and is leaving large clumps in the rows.  We will be making large round bales and small square bales.  The small squares will be carted into the shed by hand.  It's great exercise for me and others who I can ring in to help.  I'll let you know how much hay we end up with.
The huge hay harvest enables us to have back up feed for the cows for some years to come.  This means we can keep increasing our stock numbers and therefore our meat supply to our customers. Because we run Eden Farm on Bio-Dynamic principles, we can't just buy in fodder when we need it. It has to be all our own feed, or sourced from other Bio-Dynamic farms but in poor seasons it becomes scarce.  To have quality feed for our animals is our number one priority and it's great to make hay while the sun shines.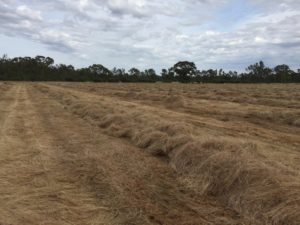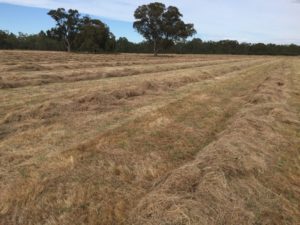 Our on farm shop will be open Friday and Saturday and we will be having a tasting day again Saturday from 9am to 12 noon.  I will be doing something special with some steak this time; a cooking method I learned for our food technology friend David List.  I believe our meat has the best flavour around and it is chemical free, but sometimes I have struggled to get the tenderness I desire because of my cooking methods. I still have much to learn. I think that will be resolved with what I will be doing on Saturday. We hope to see you there.
---