Christmas is fast approaching!
Hi Everyone, It's Hollie here. I am your guest blogger for today.
Can you believe how close Christmas is? Only 16 sleeps! We are blessed that we have all our family close by. In fact on mum's side (Peterson family) we all live within 20km of each other. This includes Granny, Mum and her brothers and their wives (my uncles and aunties). Even my cousins and my sister and brother and my sister in law.
Having family close by means that our Christmas gatherings are big events. With A LOT of food. For some families this means a lot of unhealthy food and regret the next day. But with the Peterson family we eat quite healthy. My uncle started with Biodynamics 25+ years ago.
We traditionally have a hot roast meal on Christmas. This includes our Biodynamic Beef, Biodynamic Pork from our Uncle, Biodynamic roast Veggies and Salads. We have even had some nitrate free Ham in the past. My uncle brings over his Biodynamic Milk straight from his dairy. I guess you could say our Christmas meals are a Biodynamic foodies heaven!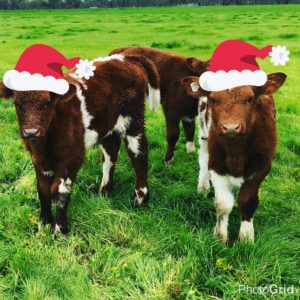 Here at Eden Farm produce we are taking orders for Christmas roasts. We have a wide range of roasts available for sale on our website. If Christmas Day is going to be a cool day like today, you cannot go past a beautiful roast beef with pan juice gravy. Or if Christmas Day is going to be hot a BBQ might be the way to go. We have a great range of steaks available. These include BBQ steak, Porterhouse Steak, Scotch fillet steak available. We have limited Sausages available so please get your orders in fast.
Our Farm Store is open every Friday and Saturday. You can call in and check out our wide range of Biodynamic pantry items and freshly picked Biodynamic in Conversion vegetables from my farm. You can also order via our website. We deliver almost every day to the local area.
I hope you all have a very Merry Christmas.
Hollie xx
---