Shop now for the food used in our recipes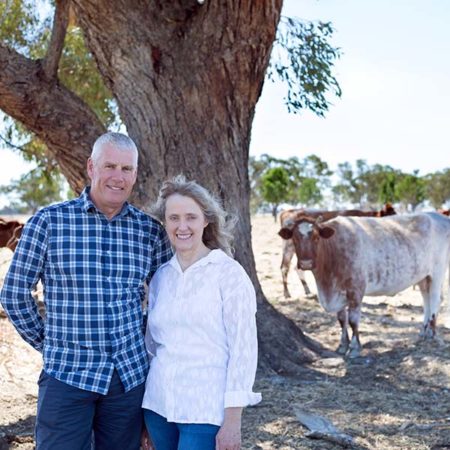 Beef Tagine
Serves 6
Moroccan spices give delicious flavour to our amazing Stewing Steak
Ingredients:
1kg Eden Farm stewing steak diced
1 – 2 tablespoons organic olive oil
2 brown onions halved and sliced
2 cloves garlic crushed
2 teaspoons ground cumin
2 teaspoons ground coriander
2 teaspoons sweet paprika
1 teaspoon ground ginger
1 teaspoon ground cinnamon
1 – 2 cups beef stock (see our recipe)
500 g organic sweet potato cut into chunks
1/2 cup toasted bio-dynamic almonds
Method:
Brown diced beef in batches, remove. Add a little oil and cook onions till tender, add garlic, cook for 1 minute then add spices. Toast till fragrant, return meat, add stock and place in a tagine or casserole dish. Cook gently for 1.5 hours. Add cubed sweet potato. Simmer with the lid off till just tender. Serve with steamed rice and quinoa, topped with toasted almonds.
Blade Steaks with Mushrooms
Makes 4 servings
Ingredients
4 (1/2-inch-thick) top blade steaks

1/4 teaspoon salt

1/8 teaspoon black pepper

1 tablespoon olive oil

1 tablespoon unsalted butter

2 large mushrooms, sliced

1 tablespoon finely chopped onion

2 Tablespoons balsamic vinegar

1 tablespoon soy sauce

1/2 beef broth

1 teaspoon cornstarch, dissolved in small amount of water
Preparation
Pat steaks dry and sprinkle steaks with salt and pepper.

Heat oil in a 12-inch heavy skillet over moderately high heat until hot but not smoking, then cook steaks, turning over once, until meat is just medium-rare, 4 to 6 minutes total. Transfer steaks to a platter and cover loosely with foil.

Add butter to skillet and sauté mushrooms and onion, stirring frequently, until mushrooms are browned and tender, about 4 minutes, then transfer to platter with steaks.

Add vinegar and soy sauce to skillet with stock and simmer, stirring and scraping up any brown bits, 2 minutes.

Stir cornstarch mixture into sauce and simmer, stirring, 1 minute. Return steaks and mushrooms, along with any juices accumulated on platter, to skillet and simmer, turning steaks over in sauce, until just heated through, about 1 minute.

Allow meat to rest then slice and serve with the mushroom sauce and your choice of vegetables.