BEEF TAGINE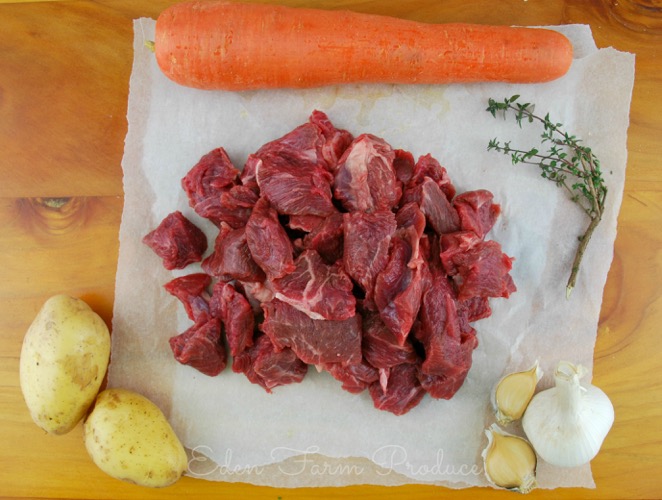 SERVES 6
MOROCCAN SPICES GIVE DELICIOUS FLAVOUR TO OUR AMAZING STEWING STEAK
INGREDIENTS:
1KG EDEN FARM STEWING STEAK DICED
1 – 2 TABLESPOONS ORGANIC OLIVE OIL
2 BROWN ONIONS HALVED AND SLICED
2 CLOVES GARLIC CRUSHED
2 TEASPOONS GROUND CUMIN
2 TEASPOONS GROUND CORIANDER
2 TEASPOONS SWEET PAPRIKA
1 TEASPOON GROUND GINGER
1 TEASPOON GROUND CINNAMON
1 – 2 CUPS BEEF STOCK (SEE OUR RECIPE)
500 G ORGANIC SWEET POTATO CUT INTO CHUNKS
1/2 CUP TOASTED BIO-DYNAMIC ALMONDS
METHOD:
BROWN DICED BEEF IN BATCHES, REMOVE. ADD A LITTLE OIL AND COOK ONIONS TILL TENDER, ADD GARLIC, COOK FOR 1 MINUTE THEN ADD SPICES. TOAST TILL FRAGRANT, RETURN MEAT, ADD STOCK AND PLACE IN A TAGINE OR CASSEROLE DISH. COOK GENTLY FOR 1.5 HOURS. ADD CUBED SWEET POTATO. SIMMER WITH THE LID OFF TILL JUST TENDER. SERVE WITH STEAMED RICE AND QUINOA, TOPPED WITH TOASTED ALMONDS.
---